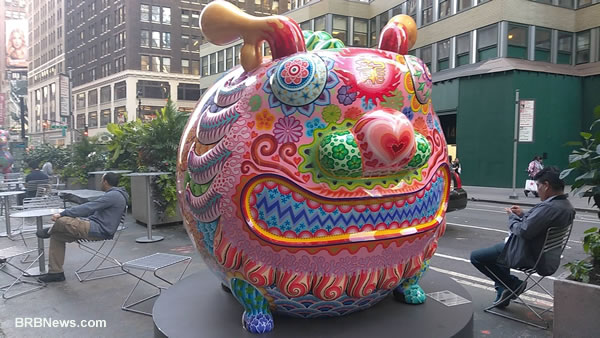 Лучшее в Нью-Йорке – куда стоит пойти 4 июля 2017 года
Day hours Bank of America Museums on Us Free
Take advantage of the Museums on Us program on the first full weekend of every month – all for free and all just for being a customer. Each cardholder gets one free general admission to 150 museums nationwide.
Check Website Outdoorfest Free
OutdoorFest aims to create a community of New York's urban-based outdoor enthusiasts through our ten-day festival of outdoor adventure events in all five boroughs. Free events through the week in all different areas.
9:00am–10:00pm Six Flags Great Adventure Trip $38
For Six Flags passmembers, this is a "Bring a Friend for FREE" day (but only if you did not already bring a friend free in May)—> see the passmember site
Check Website The Other Art Fair Free/$
The Other Art Fair makes it's debut in the creative heart of Brooklyn on June 1-4, 2017 at Greenpoint's Brooklyn Expo Center, presenting 110 talented emerging artists to an audience of art buyers and enthusiasts. Each artist has been handpicked by a Selection Committee of art experts, so visitors can add to their collection with the confidence that they are buying from the very best and most promising emerging artists.

10:00am-6:00pm Ultimate Science Sunday Free
Ride a hovercraft, control an underwater rover, and face off with virtual reality dinosaurs. This is Ultimate Science Sunday, an action-packed day of robots, catapults, wind tunnels, telescopes, and so much more! Explore floors of interactive exhibits, demonstrations, and games during this immersive science event that you won't want to miss. This indoor event is free and open to all ages.

10:00am Puerto Rican Day Parade Free
Celebrate Puerto Rico with song, dance, and more!

10:00am-6:00pm World Ocean Festival Free
The Ocean Village at Governor Island will be the hub for all things Ocean. There will be a variety of family-friendly educational activities scheduled throughout the day

10:00am-6:00pm Figment NYC Free
FIGMENT is an explosion of creative energy. It's a free, annual celebration of participatory art and culture where everything is possible. For one weekend each summer, it transforms Governors Island into a large-scale collaborative artwork – and then it's gone.

11:00am-5:00pm Pet Super Adoption Free
Hundreds of fabulous dogs and cats will be there just waiting to introduce themselves, so you're sure to find your perfect match. And that means a sunny future for you and your new family member!
11:00am-6:00pm Craft in Focus Festival Free/$
Learn From 100+ Master Artisans And Craftsmen At Craft In Focus Festival In Brooklyn

11:00am Celebrate Israel Parade Free
Together, we are stronger. We encourage and support each other; we celebrate our differences and find common ground; we increase our understanding of ourselves, each other and the world. Our love for Israel unites us throughout history, now and forever! All together, we celebrate Israel!
11:00am-6:00pm 15th Annual Drums Along the Hudson Free
Join NYC Parks and Lotus Music and Dance for this annual Multicultural Celebration and Native American Festival. This is a free event featuring Native American, Japanese, Brazilian, Flamenco, and Korean dancers and drummers from around the world! The festival combines a celebration of Native American heritage, culture, and art with the diversity of New York City. Spanish, African, Brazilian, and Tibetan cultures will also be celebrated with food, music, and dancing. Activities include a Tree of Peace planting, international cuisine, Native American storytelling, a Pow Wow, crafts. and visits from Captain Planet.
11:00am-4:00pm Discovery Day at Freshkills Park Free
Explore the world's largest landfill-to-park project at this free event! Discovery Day is a one-day opportunity to visit normally closed sections of Freshkills Park before they open to the public.Discover the 2,200-acre park's rolling hills and views of New York City with bicycling, tours, activities, and hiking across miles of trails.
11:30am–3:30pm Central Park Mystery & Scavenger Hunt: The Case of The Missing Raccoon $10
Here's a brand new way to explore and learn about the world's most famous urban oasis while socializing and participating in our latest intriguing and fun Mystery Event & Scavenger Hunt. Come alone or with friends, we'll be teaming you up with other interesting people to help solve the mystery of what happened to Randy The Raccoon!
2:00pm–4:30pm Underground Manhattan $29
Join New York Adventure Club as we explore the oldest subway stations in New York City with transit expert and guide Gary Dennis.
Starting at Brooklyn Bridge Station and working our way up to Grand Central Terminal, Gary will give you the secret history and inside story of the creation of the original 1904 subway line, and how it grew into the most extensive transportation system in the world.
3:00pm-4:30pm Book Launch & Wine Tasting Free
Join Bianca Bosker For The Launch Of Her Book, Cork Dork – Followed By A Wine Tasting

3:00pm-6:00pm The Ainsworth NBA Finals Hardwood Classics Party Free
Join us at The Ainsworth on Sunday June 4th for an afternoon of basketball, contests, prizes and former NBA Legends appearances and don't forget to suit up in your best 90s basketball gear.
6:00pm-9:30pm Summer on the Hudson: Let's Dance! Free
Learn to dance Salsa, Zouk, and Bachata with lessons and group social dances led by master teachers from the Piel Canela Dance and Music School featuring DJ Ray Colon.
7:30pm Comedy Central Meetup Free Admission Free
This is a special Meetup, we finally got a deal with Stand Up New York the hottest club in New York City to let us in free of charge and see comics like Amy Shumer, Godfrey, Kevin Brennan and top names, this is NOT an amateur show like alot of the meetups. I just ask that everyone who Rsvp's really do their best to show up AND MAKE IT ON TIME.
7:30pm Socrates Sculpture Garden and Astoria Park Free
We will make self-introductions become friends, and then it will be more fun to walk through Socrates Sculpture Garden, North through Astoria to Astoria Park, hopefully arriving theirs at Dusk.
8:00pm Crosby Sunday Night Film Club $
Sunday Night Film Club At Crosby Street Hotel. Up This Week: "Neruda"
 НОВОСТИ РУССКОГО НЬЮ-ЙОРКА США
МАНХЭТТЕН БРУКЛИН КВИНС СТАТЕН АЙЛЕНД БРОНКС НЬЮ-ДЖЕРСИ